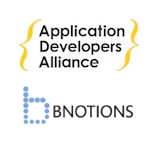 We are extremely pleased to announce that the App Promo App Marketing 101 series will be syndicated on the BNotions Blog and the Application Developers Alliance Resource center. The App Marketing series was created as the essential how-to market your app tutorial for app publishers and developers. The 10-part article series walks the reader through all 10 core pillars of app marketing from app store optimization through to paid and social media and beyond.
The series just recently completed its syndication on the Sony Developer World with extremely positive response from the Sony developer community.
BNOTIONS is an Innovation Company that works with forward-thinking global brands and disruptive entrepreneurs. Their team focuses on strategy, design, and development of mobile, web and social products.
Application Developers Alliance is a non-profit industry group founded to serve developers, the people who power and expand the world through software. They  work to ensure that developers have the tools, network, and policy environment they need to innovate.
Both of these partners are leaders in empowering publishers and developers in thinking about their app as a business, a mission core to App Promo.
The first part of the article series has already been posted by BNotions. Application Developers Alliance expects to launch this series in the New Year. You can read the complete 10-part series now on the App Promo Blog.