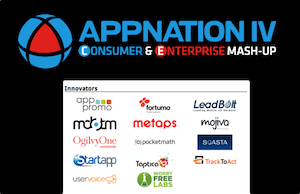 Increasing discovery and making money were two hot topics of conversation at this year's AppNation IV in San Francisco both on the agenda and in the exhibit hall.
Among many topics on the agenda was "Masters of Monetization" with Foursquare CRO and VP of Advertising from CBS Mobile presented by IAB. In addition were workshops on "The Art of App Discovery" and "App Store Optimization Strategies".
The exhibit hall echoed the agenda with leading ad networks – TapJoy, BluTrumpet, AdMob & Millenial Mobile; CRM and retention solutions – AppBoy, AirPush & HelpShift; and App Discovery Solutions such as Fiksu, AppTrailers & Quixey all showcasing their services aimed to combat the challenges app publishers are facing in today's thriving app economy.
As pioneers in the Business of Apps, App Promo added to the conversation as a Sponsor by officially launching our App Store Optimization packages (ASO) at the event. These packages were introduced as ready-to-go solutions for app publishers to improve discovery of their app in and outside the app store by focusing on keywords and search along with enhancing other elements aimed to increase downloads.
We also had the pleasure of meeting many new app publishers who told us their stories and voiced their challenges of getting their app known and making a business of it. The conversations we had with many of the app publishers who were part of the "App Garage" reaffirmed the need for marketing an app in order to succeed. Many of the applications in the "App Garage" were having issues getting the attention they require to take their product to the next level. In fact, from our own audit of the crowd, about 6 out of 10 app publishers did not have a clear business or marketing plan when we spoke with them about their products.
Two things were very clear from our time in San Francisco at AppNation this year – the excitement and activity around apps has never been stronger and the challenges these apps face in getting noticed and found are even greater.
That's why we are excited to be here to help!