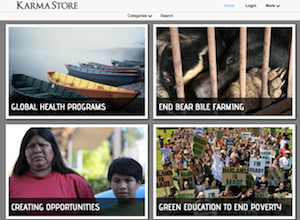 As we enter this festive holiday season, we also enter one of the busiest times for people working in the mobile world. This exciting and fast pace world has provided us with great innovation amazing technology and the opportunity to work with some truly gifted people.We are truly fortunate to work in this sector.
In appreciation of the great clients, friends and family that we work with, App-Promo would like to say thank-you by giving back and making a donation and partnering with the Karmastore.org a startup that is making donating easy and of course mobile.  App-Promo is proud to associate itself with the Karmastore and even more proud to be able to give back and donate to the Karmastore and know that this donation will be received by organization in need and will be used for good.
We wish you and your family all the best for the holiday season and thank you for your continued support and look forward to a bright and hopeful 2013!