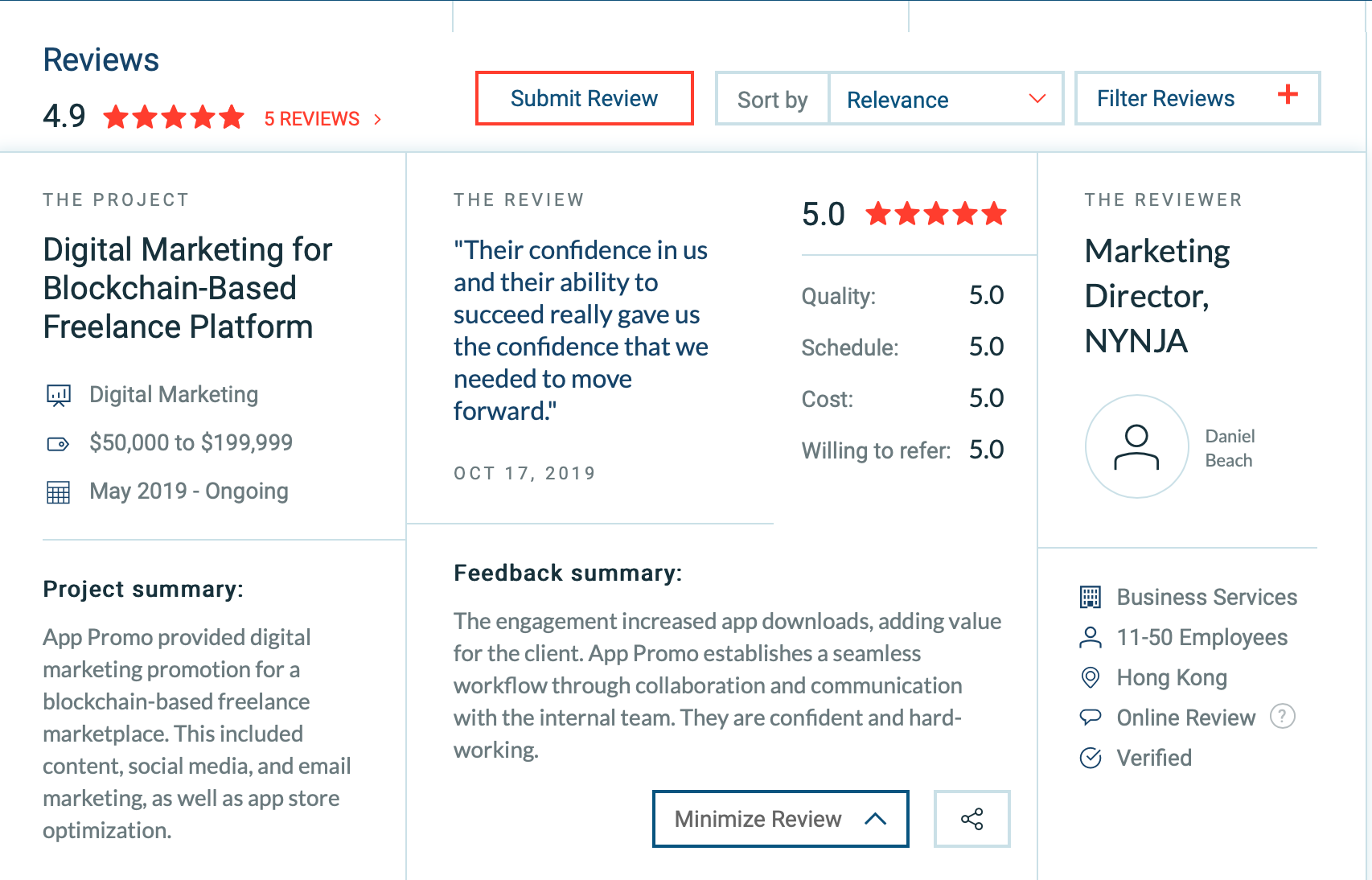 BACKGROUND
Please describe your company and your position there.
NYNJA is developing a blockchain-based freelance marketplace where talented professionals can find work and businesses and talent in real-time to reduce the cost and friction associated with hiring talent online.
As marketing director at NYNJA, I am responsible for driving user adoption and retention on the initial application and to drive awareness of NYNJA as a brand in blockchain and freelance circles.
OPPORTUNITY / CHALLENGE
For what projects/services did your company hire App Promo?
App Promo was hired to assist with our app promotion strategy, to help with user acquisition and retention. Their mandate has broadened over the course of our relationship to include social, email, and content marketing. With a small marketing team internally, App Promo and their founder, Gary Yentin, really helped us build out our capabilities so we could reach more people and identify what channels were effective and where we needed to put more attention. This all happened while they were dramatically improving our user acquisition processes and how we thought about our target market.
What were your goals for this project?
While App Promo's initial mandate was to drive user adoption, following collaboration with industry partners they facilitated we really learned that we needed more fundamental changes in our application and how we tracked user engagement in the application. This would help us to maximize the effectiveness of our marketing spend on both user acquisition and ultimately retention.
SOLUTION
How did you select this vendor?
We interviewed a number of different vendors after having worked with several others found via referral or through online research. App Promo had the most robust and thoughtful proposal that we had seen that actually took the time to delve into what our actual business challenges were instead of providing a cookie cutter approach to brand recognition and ad spend.
Describe the scope of their work in detail.
The App Promo team effectively became an extension of the NYNJA marketing team. While the broader marketing plan was developed internally, the App Promo team took the lead on developing plans around content and user acquisition and really helped to execute on everything from content to social media planning and content curation, user acquisition via app store optimization and advertising as well as partnership opportunities with the Samsung Galaxy Store.
What was the team composition?
We worked directly with the founder, Gary and his team as our requirements grew. He and his team have been incredible with their dedication to our success and extremely patient with us as our requirements changed and their mandate would change in turn.
RESULTS & FEEDBACK
Can you share any outcomes from the project that demonstrate progress or success?
While I won't share results here, I would say that I was extremely impressed by App Promo's ability to get up and go quickly. Our downloads are a multiple of what they were when their team began and we continue to see value from their efforts.
How effective was the workflow between your team and theirs?
Seamless. Gary and his team worked with us like we were their only client, even though I know for a fact that this isn't the case. More agencies should endeavor to provide that level of client service.
What did you find most impressive about this company?
Just their overall commitment to our success and the steadfast nature they took to going about it no matter what. Their confidence in us and their ability to succeed really gave us the confidence that we needed to move forward.
Are there any areas for improvement?
Not on their end, no.