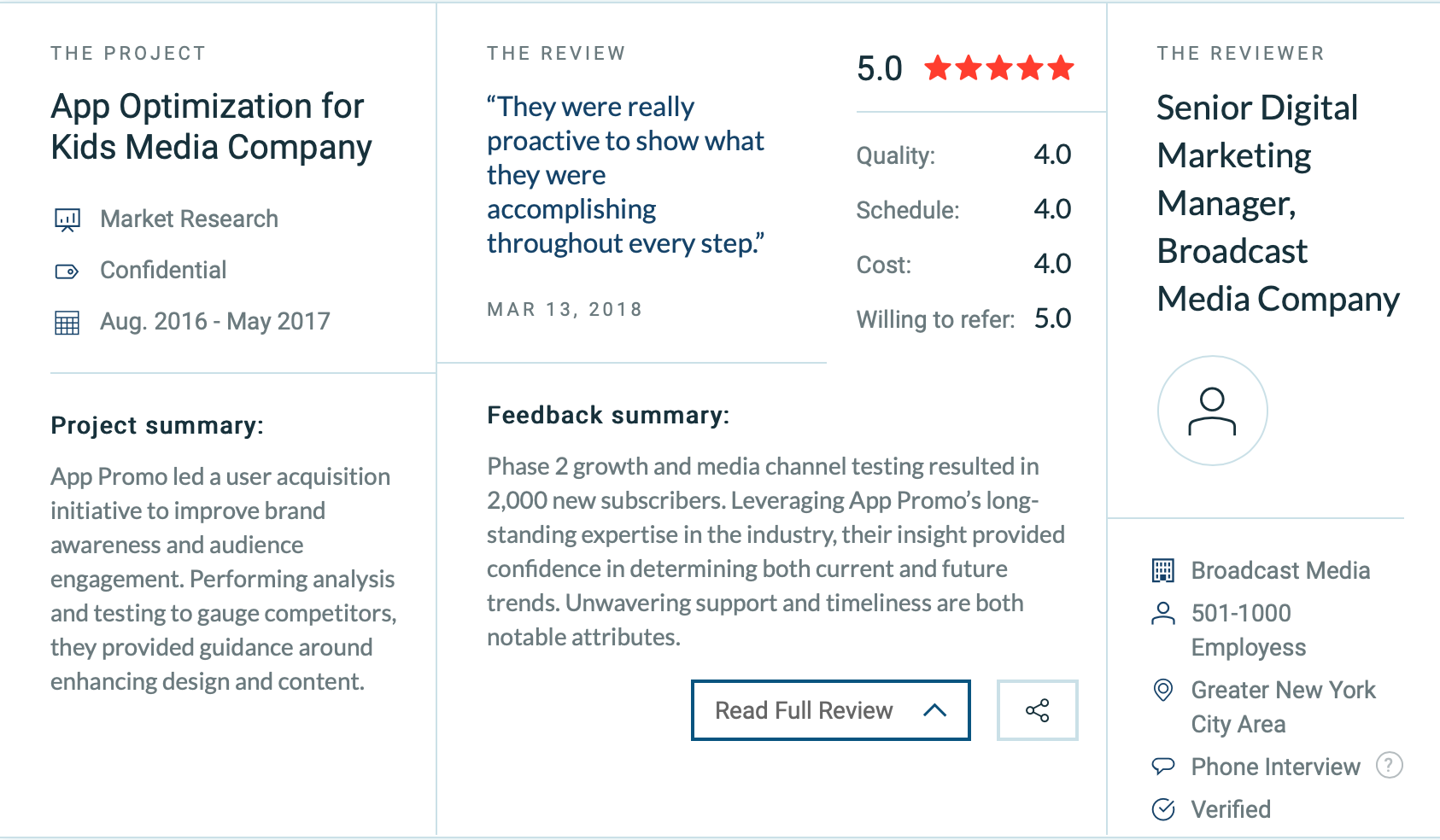 BACKGROUND
Introduce your business and what you do there.
I'm the senior marketing manager of a children's television network that has over 40 apps in the App Store.
OPPORTUNITY / CHALLENGE
What challenge were you trying to address with App Promo?
Our digital marketing group was new and needed help with user acquisition, so we reached out to App Promo. We wanted them to help us understand our audience and how we could make our brand stand out against the competition.
SOLUTION
What was the scope of their involvement?
They started with doing an analysis of different digital apps for children in the App Store to see how their landing pages and designs spoke for their brands. We didn't have a specific presence at that time, so doing that complete analysis was necessary. The second phase consisted of them providing instructions on how to reach parents and children through both design and content. There was a 30-page deck that elaborated on the different aspects of what each competitor was doing correctly and what they were doing wrong. We used this to determine how we could expand our brand and go above our competitors.
Gary (CEO & Founder, App Promo) also requested creative assets from us to be able to do marketing tests and A/B tests, which were new for us. It was the beginning of we started to grow our audience and evolve the team dynamic to what it is now.
What is the team composition?
Gary and I touched base every morning to discuss progress and see what he needed from my team. He also had a researcher working for him who did the initial deep dive.
How did you come to work with App Promo?
I came in towards the end of the first engagement, so I'm unsure how it started.
What is the status of this engagement?
We worked together from August 2016 until May 2017.
RESULTS & FEEDBACK
What evidence can you share that demonstrates the impact of the engagement?
We created a full experience on the game landing page as a result of our engagement with App Promo. The phase 2 growth and media channel test started in January 2017 and was completed in May, increasing our new subscribers from 48,000 to 50,000.
How did App Promo perform from a project management standpoint?
Working with Gary was a pleasure. He was very vocal regarding games and how we could acquire new users, as well as what those users would look like. He gave feedback on a third-party report since he had over 20 years of experience in the marketplace. Most companies don't have the patience to talk you through things and explain what's going on in the marketing. They can't estimate what's going on or what will happen in the future because they haven't been in the business for a long time, which is necessary to help a business flourish within the digital space. We leveraged Gary's expertise for campaigns that we still use to this day. The researcher he assigned was also very thorough and informative about what she found and her progress.
What did you find most impressive about them?
It was a new experience for our team and App Promo was very hands-on and detailed in their approach. They were really proactive to show what they were accomplishing throughout every step.
I'm still in contact with Gary and he doesn't charge me for advice. I value his opinion, oversight, and experience because he's been in the industry for so long. He's always there for me.
Are there any areas they could improve?
I have no suggestions for improvement. They were a great asset and it was a really positive engagement.
Do you have any advice for potential customers?
Listen to what they're actually saying and the advice they give you. You don't have to use all of it, but it's important to listen because their direction will help you in the long run. You're paying for it, so you should take advantage of that.