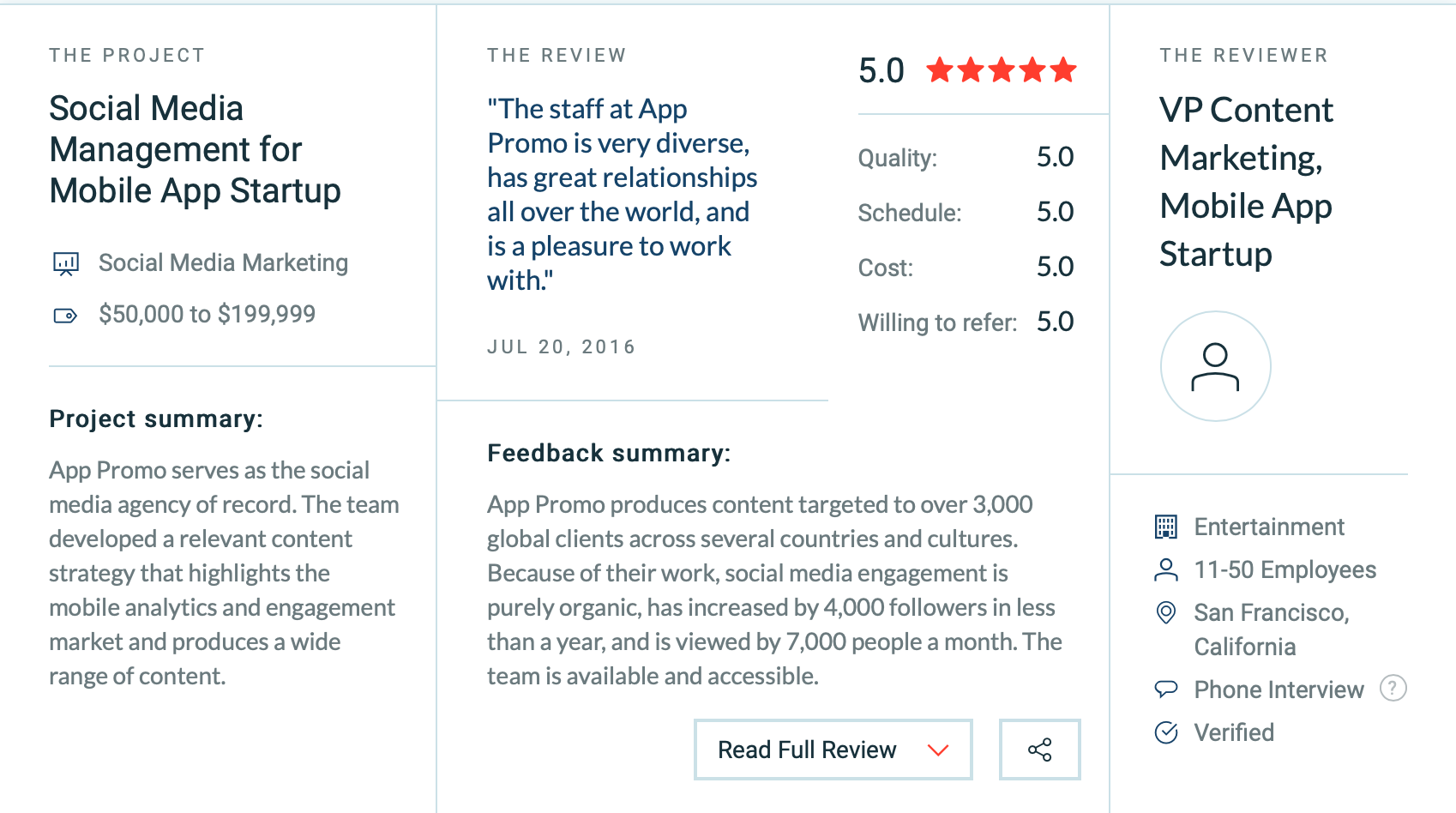 BACKGROUND
Please introduce your business and what you do there.
The company I work for is a mobile analytics and engagement platform. I'm Vice President of Content Marketing. I'm in charge of media relations, social media, and content production related to our blog, white papers, and the guest articles we post on other sites.
OPPORTUNITY / CHALLENGE
What challenge were you trying to address with App Promo?
We received funding in 2013 from Sequoia Capital India, and have offices in Silicon Valley, Sunnyvale, New York, Los Angeles, and Mumbai. As a startup in the industry coming into the US market, we were looking for a partner that was more of a boutique agency that could give us a personalized service but also had a global approach when it came to social media and content production.
SOLUTION
What was the scope of their involvement?
App Promo is our social media agency of record. They oversee all our social media, which includes Twitter, Facebook, and LinkedIn. I collaborate with them on social media posts ranging from general routine corporate posts to posts about special events. We also completed an event in Toronto that they produced for us—a breakfast summit about mobile engagement and analytics.
How did you come to work with App Promo?
I've known the CEO for about 12 years. I worked with him previously at another company. I was working on a project with him for Virgin Mobile, and then I was in charge of mobile marketing for Bandai Namco. He was our social media agency there. When I accepted the position here, we didn't have a social media agency, so I hired him to work with us because I had a positive experience with him in the past.
How much have you invested with App Promo?
We are on a monthly retainer, which comes to about $100,000 a year.
RESULTS & FEEDBACK
Could you share any evidence that would demonstrate the productivity, quality of work or the impact of the engagement?
What's unique about App Promo is that because we're a global company with over 3,000 clients worldwide, it's really important to produce social media content that's relevant not only in general terms, but more specific terms based on the markets we're trying to reach. I was able to work with their team to develop a content strategy that's relevant and speaks to the mobile analytics and engagement market. We needed to be conscious of producing content that might be more interesting to people in India or Europe.
We found that all of our social media engagement is purely organic. We don't do any boost of any content. Our profile gets a tremendous number of views—about 7,000 people visit our profile every month. We have gone from zero to about 4,000 followers in less than a year. Because it's all purely organic, 70% of the people that follow us are mobile developers, mobile marketers, or data scientists. That lets us know that we're speaking to the audience that we're actually targeting. App Promo helps us identify who our target audience is and then crafts content that speaks to that audience to keep them engaged. They help us grow organically, which translates into new customers.
How did App Promo perform from a project management standpoint?
They're excellent. They are hands-on and available anytime. I work primarily with their person in London, which is beneficial to us because she has more of a global perspective. I find App Promo professional, engaging, and easy to work with. They're available 24/7 if needed.
What did you find most impressive about App Promo?
In my previous job, they did App Store optimization for the mobile games at Bandai Namco, so I would say that their CEO is a very well-respected executive in the industry. He has a tremendous amount of integrity and is very authentic. He is very straightforward and honest about his opinion of what he thinks will work and not work. Sometimes I've found that some agencies have been afraid to really be straightforward. I appreciate the fact that he's honest and will give us options for what we should or shouldn't be doing.
The fact that App Promo is able to provide a more global perspective is important, especially since we're producing an app for a global audience. There are agencies that are excellent in North America but wouldn't have a clue on how to promote an app in Europe or Asia. The staff at App Promo is very diverse, has great relationships all over the world, and is a pleasure to work with.
Are there any areas App Promo could improve?
No. As a startup, we're always needing to shift quickly, and App Promo is very nimble and accommodating when we want to change strategies or if we have a new idea we want to roll out. I haven't had a negative experience with them. Their core strengths are App Store optimization, social media, and the press—these are the key areas in which I've successfully worked with App Promo.