SnapNtalk is a fun and easy mobile application that enables users to add voice and text to their photos for iOS and Android devices.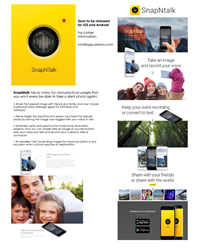 SnapNtalk has so many fun and practical usages that you won't ever be able to take a silent photo again!
San Francisco, Californa (PRWEB)September 21, 2015
SnapNtalk is a fun and easy way to add voice and text to photos. SnapNTalk makes every photo memorable and unique. Simply take a photo, record a voice or a sound and the image will come alive with the sound now connected to the photo. It is also easy to discover prerecorded sounds by browsing through the Soundboard categories, or you can find specific sounds by using the search function. parental locks Keep any voice recording or convert it to text; either way, the photo will speak for itself!
"SnapNtalk has so many fun and practical usages that it will be hard just to snap a silent photo," said Brian Dolling, creator of SnapNtalk.
SnapNtalk will be available on iOS and Android devices and is a perfect addition to App Store libraries for the upcoming holiday season.
Examples for usage:
Share that special image with friends and family and now include a personal voice message (great for birthdays and holidays)
Never forget the day/time and reason for that special photo by having the image now tagged with voice or text
Extremely useful and practical for those home renovation projects. Simply take an image of a renovation, add either voice and text and send to family members or any contractor working on the job.
An excellent tool for sending images for insurance claims or any occasion when a photo requires an explanation.
For further information and the opportunity to share SnapNtalk images on Facebook, Instagram, and Twitter, please review the following links:
Website: http://www.snapntalkapp.com
Facebook: https://www.facebook.com/snapntalk
Instagram: https://www.pinterest.com/snapntalk/
Twitter: https://twitter.com/SnapNtalkApp