Securify App (created by Ububble Inc.) is a new emergency response application available for iOS and Android. The application provides consumers the opportunity to instantly provide critical information including precise GPS location to authorities at any time and any location around the world.

New York, New York (PRWEB) December 23, 2014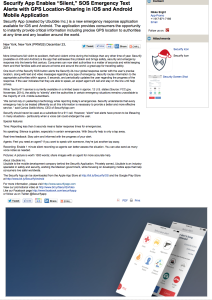 More Americans fall victim to accident, theft and violent crime during the holidays than any other time of year. Securify (available on iOS and Android) is the app that addresses this problem and brings safety, security and emergency response into the twenty-first century. Consumers can now alert authorities in a matter of seconds and while keeping them and their families safe and secure at home and around the world- a great app for travelling safely.
One touch of the Securify SOS button alerts the Securify 24-hour global response center with the user's precise location, along with text and video messages regarding any type of emergency. Securify routes information to the appropriate authorities within approx. 5 seconds, and periodically updates the user regarding the progress of the response. If the user indicates that they are able to speak, an expert agent will call and stay on the line until help arrives.
While Text-to-911 service is currently available on a limited basis in approx. 12 U.S. states (Source: FCC.gov, November, 2014), the ability to "silently" alert the authorities in certain emergency situations remains unavailable to the majority of U.S. mobile subscribers.
"We cannot rely on yesterday's technology while reporting today's emergencies. Securify understands that every emergency has to be treated differently so all this information is necessary to provide a better and more effective service. " said Carlos Gotlib Micha, CEO of SecurifyApp.com
Securify should never be used as a substitute for a 911 call. However, "silent" text alerts have proven to be lifesaving in many situations – particularly when a voice call could endanger the user.
Special features:
Time: Reporting less than 5 seconds means faster response times for emergencies.
No speaking: Silence is golden, especially in certain emergencies. With Securify help is only a tap away.
Real-time feedback: Stay calm and informed with the progress of your alert.
Agents: Feel you need an agent? If you want to speak with someone, they're just another tap away.
Recording: Enable 1 minute silent recording so agents can better assess the situation. You can also send as many voice notes as needed.
Pictures: A picture is worth 1000 words; share images with an agent for more accurate help.
About Ububble Inc.
Ububble is the mobile development company behind the Securify Application. Privately owned, Ububble is an industry specialist in safety and security, working the Mexican government, while focusing on developing mobile apps that help consumers live safer worldwide.
The Securify App can be downloaded from the Apple App Store at http://bit.ly/SecurifyIOS and the Google Play Store at http://www.bit.ly/SecurifyAndroid 
For more information, please visit http://www.securifyapp.com 
View our promotional video at http://www.bit.ly/SecurifyVideo 
Like our Facebook page http://www.facebook.com/securifyapp 
Follow us on Twitter @Securifyapp