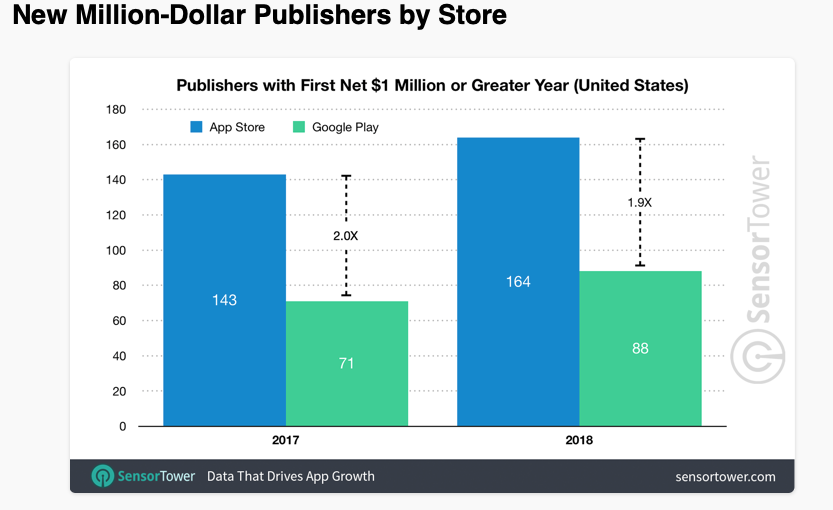 In 2018, Apple's U.S. App Store minted 164 new millionaire publishers compared to 88 for the Google Play store according to a new store intelligence report by Sensor Tower.
Google Play in the United States took the top spot in total growth of the number of new publishers to hit $1 million year-over-year with a rise from 71 publishers in 2017 or 24 percent, while Apple had 15 percent growth with a rise from 143 publishers in 2017.
In the App Store, games was the most popular category of apps, making up 33 percent of the publishers who made their first $1 million or more in revenue in 2018. That amounts to 60 percent of the platform's total revenue in 2018.
FoxNext Games, which publishes Marvel Strike Force and is a division of 20th Century Fox, topped the gaming category with $15 million in revenues in 2018. Released in March, Marvel Strike Force is a role-playing game that allows users to play popular characters from the Marvel Universe like Hulk, Black Panther and Spider-Man. The game itself is free to play but users pay real world money for in-game add ons called "Power Cores."
Health & Fitness and Lifestyle were also important categories for the App Store with 12 percent and 10 percent of the total representing the publishers who created popular downloads including meditation app Breethe, initially released in 2015, and guided workout app 30 Day Fitness Challenge, which launched in 2013.
Overall, the gaming category was even more important to Google Play's bottom line with 65 percent or 55 of 84 publishers grouped into this category. Social apps were second most popular for Google Play after games with six percent of publishers.