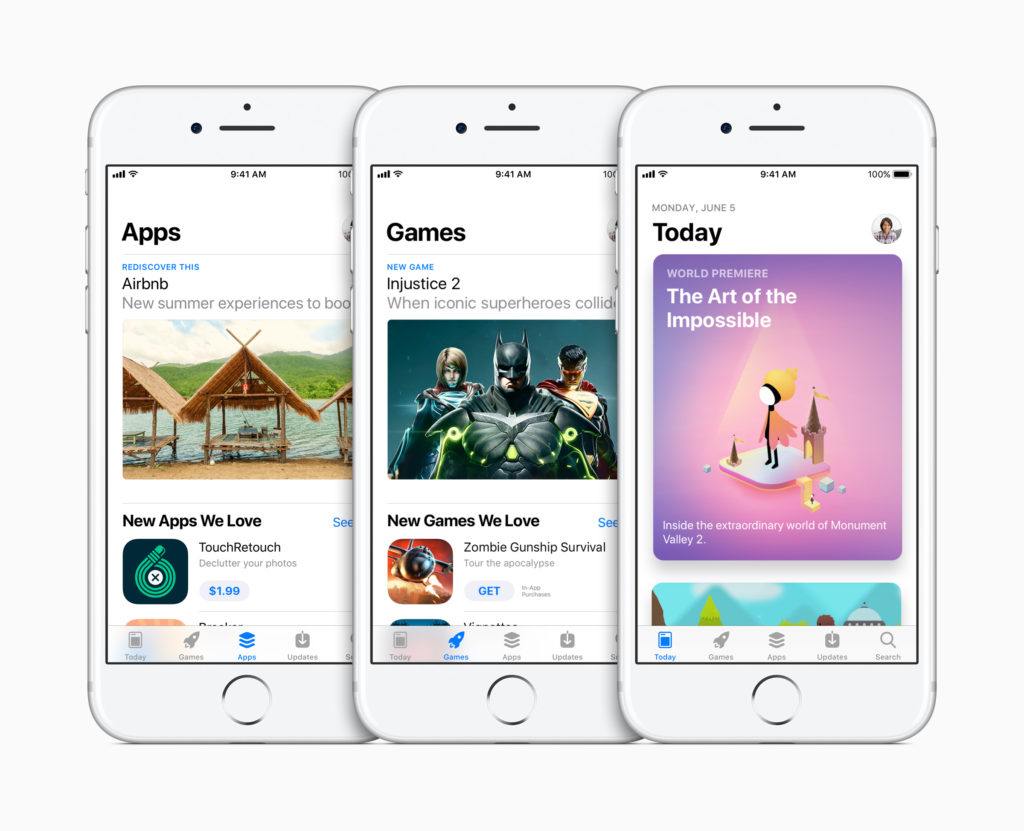 Apple has unveiled one of the biggest overhauls to the App Store since its launch in 2008, designed to make discovering apps and games "easier than ever before". The design makeover was announced at the Worldwide Developer Conference (WWDC)
Among the new features of the redesigned App Store is a new "Today" tab, billed as a daily destination all about games, apps and app culture. It will showcase original stories and in-depth features and interviews, as well as exclusive premiers, new releases and a fresh look at all-time favourites, and will be updated on a daily basis.
Apple has also created a dedicated tab for Games, which it says is the most popular category on the App Store. The new section will feature recommendations of new releases and updates, videos, top charts just for games and hand-picked collections, making it easier for users to navigate the 500,000 games available.
Apps will also have its own tab which, like the new Games section, will also feature recommendations, videos and hand-picked collections across 24 categories, as well as its own app charts.
Furthermore, the Updates tab will allow users to quickly see what has changed in their apps and games with the latest updates, while the Search function has been enhanced to include the editorial content found in the Today, Games and Apps tabs.
Apple has also redesigned the app product pages to allow developers to spotlight their apps with more engaging content and put the most important information front and centre. Developers can submit up to three video app previews and five screenshots, which can now be localised so a customer in any country can have a customised version of the video.
Finally, Apple is also making in-app purchases more discoverable on the App Store. In-app purchases will show up on an app product page and in search results, with users now being able to start their purchases on the App Store and be taken directly into a developer's app or game to complete the transaction.
The new App Store will be included with iOS 11. The developer preview of the new operating system is already available to iOS Developer Program members, and a public beta programme will be available to iOS users later this month. The new software will be available this fall as a free update for iPhone 5s and later, all iPad Air and iPad Pro models, iPad 5th generation, iPad mini 2 and later and iPod touch 6th generation.