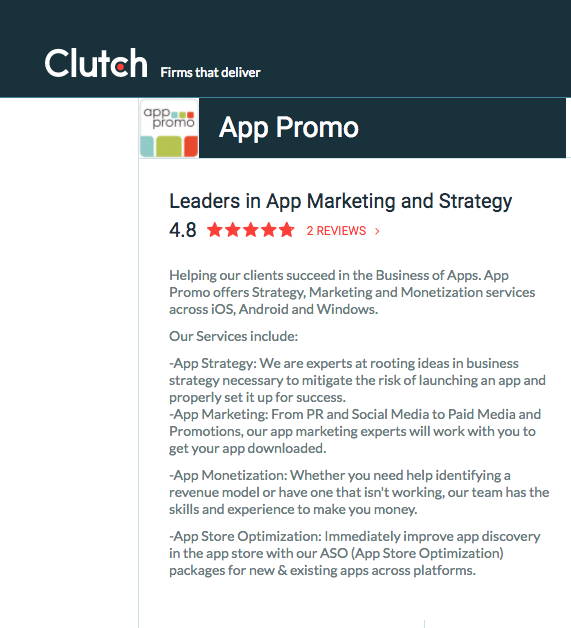 @AppPromo, we offer app strategy, marketing, app store optimization and monetization to help our clients succeed in the Business of Apps. Since our launch in 2010, we have helped hundreds of developers, brands, and advertisers take their app to new heights.
Why choose App Promo as your app partner? We are dedicated to maximizing your app's presence and improving its discovery to boost conversations. Founder, Gary Yentin, and our team have years of experience managing strategy, marketing and sales for clients ranging from the entertainment, new media, and technology sectors.
Some of our clients have shared their experience working with App Promo on Clutch. Clutch is a B2B ratings and reviews site based in Washington, D.C. More than 100,000 buyers use Clutch every month to find business services, software, or consultants. Analysts at Clutch evaluate leading technology and marketing companies on several qualitative and quantitative factors as well as direct input from customers.
One of our clients, the VP of Content Marketing of a Mobile App Startup stated in his review, "The staff at App Promo is very diverse, has great relationships all over the world, and is a pleasure to work with."
Another one of our clients, the VP of Mobile Strategy at 3Q Digital, told a Clutch analyst, "They pay attention to detail and execute on the strategy they set."
Furthermore, we have recently been featured on the Best Mobile & App Marketing Agencies in Canada Clutch directory which highlights detailed client reviews of leading mobile app marketing agencies in Canada.
At App Promo, we strive to keep our customers happy and value feedback to help us understand both our strengths and areas for improvement.
We look forward to continuing our partnership with Clutch and hearing more from our clients. To read more about what our clients have to say, read their detailed reviews on App Promo's Clutch Profile.