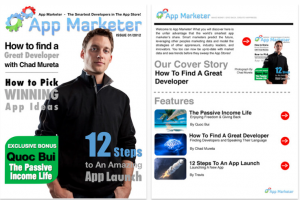 Newly launched tablet publication, App Marketer, now available on the iPad Newsstand has featured our App Marketing Infographic "Wake Up Call" which was originally picked up by the likes of Mashable, Into Mobile and TUAW back in May of this year.
App Marketer is a new iPad magazine published by a group of developers who use their own experiences as well as learnings they have gained from marketing data and other "Appreneurs" to communicate trends and inside information to anyone interested in succeeding in the business of applications.
In their first issue released for August 2012, App Marketer tackles issues such as "How to Find a Great Developer", "How to Pick Winning App Ideas", "12 Steps to an Amazing App Launch" and of course our very own cautionary infographic "Wake Up Call: If You Spend It, They Will Come" which sheds light on the truth behind success with mobile apps backed by data we gained from a survey completed earlier this year.
The infographic highlights that nearly 60% of developers surveyed don't generate enough revenue to break even with development and identified a group of 12% which were the Top Earners who used marketing to see success.
As App Marketer is a tablet publication, readers will benefit from not just static information via text and images but also videos the publishers have included to enrich their editorial.
App Marketer can be downloaded as a FREE app from the App Store Newsstand and the August 2012 issue is currently also a free download to read and enjoy.