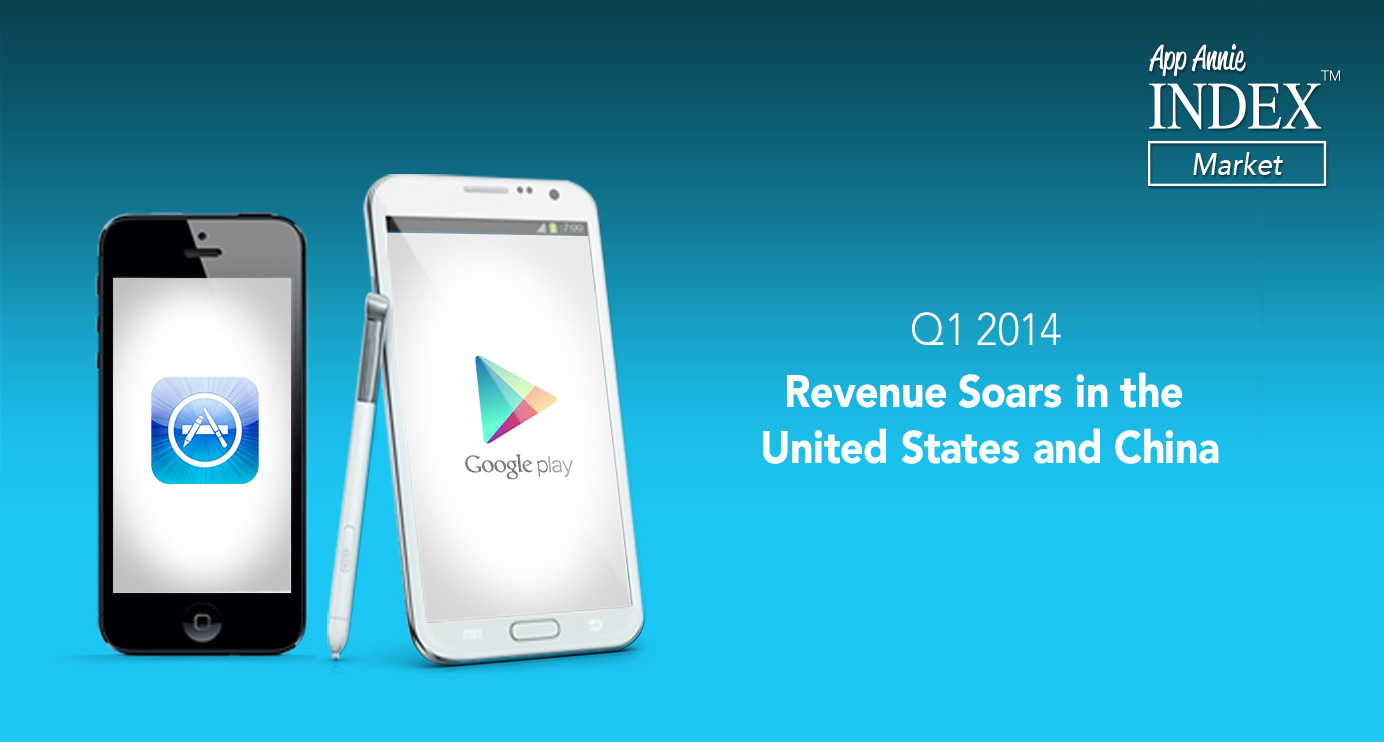 @Apppromo follows the App Annie Market Index and found the results for Q1 2014 very significant in terms of revenue in both the US and China markets. Please review and enjoy the following excerpts from the latest Market Index.
---
The information contained in this report was compiled using App Annie Intelligence, the industry-leading market data solution for identifying opportunities in the app store economy. It provides the most accurate market estimates for global app downloads and revenues – to learn more, take the tour or request a demo today.
---
Key Trends Across Stores, Countries and Categories
Google Play worldwide downloads now exceed iOS App Store downloads by around 45%, driven by growth in emerging markets. Russia and Brazil have been on the rise for some time now, but Mexico and Turkey also had a strong influence on Google Play downloads in Q1 2014.
The iOS App Store remains comfortably ahead in worldwide revenue, generating about 85% more revenue than Google Play. This gap narrowed over the last quarter though, as Google Play revenue increased markedly in the United States and United Kingdom.
China was the key market for iOS App Store growth, showing exceptional gains in both downloads and revenue. iOS App Store revenue in China grew around 70% quarter-over-quarter.
Games remained the key category driving growth in both app stores. However, there was also growth in categories outside of Games. Tools saw gains in Google Play revenue, dominated by anti-virus and security apps. On iOS, Finance grew in revenue during tax season in the United States.
Messaging apps remained a huge growth area, contributing to the gains for the Communication category on Google Play and Social Networking on iOS.

Google Play Builds a Substantial Lead in App Downloads
iOS App Store vs. Google Play App Downloads & Revenue
Google Play led the iOS App Store in downloads by approximately 45% in Q1 2014, up from 35% in the previous quarter. Meanwhile, the iOS App Store maintained its comfortable advantage in revenue, leading Google Play by 85%. However, Google Play continued to narrow this revenue gap. The gains for Google Play come as Android devices extended their lead in worldwide device installed base.
Growth in Google Play downloads was driven by explosive growth in emerging markets, with Mexico and Turkey showing themselves as markets to watch. According to IDC, smartphone adoption has grown rapidly in Mexico, increasing around 75% in 2013 and expected to grow by approximately 40% in 2014. Over 65% of these devices used the Android OS, and this proportion is expected to increase in 2014. In Turkey, significant investment in IT and prominent technology projects as part of Vision 2023 and the FATIH education project are contributing to rapid device growth. According to IDC, IT spending is expected to increase around 9% in Turkey this year, driven primarily by the adoption of smartphones and tablets.
iOS App Store revenue growth was driven largely by China and the United States. However, impressive growth extended to smaller markets such as Vietnam and South Africa. Games remained the key category for revenue growth, but Finance apps also gained markedly, with worldwide category revenue growing around 45% quarter-over-quarter. This was boosted by the performance of TurboTax 2013 during tax season in the United States.
Games also topped growth in Google Play revenue, but other categories also saw notable revenue growth. In particular, Communication saw huge gains, and News & Magazines made a significant contribution. While emerging markets drove Google Play download growth, it was established markets such as the United States and United Kingdom that contributed the most to narrowing the revenue gap with the iOS App Store.