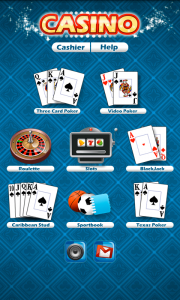 Congrats to our new client gApp Technology Inc., creator of the "swiss army knife of casino and card games" 15-in-1 Casino & Sportsbook for Android on receiving a 4.1 out of 5 star rating from go-to Android Review site AndroidTapp.com.
15-in-1 Casino & Sportsbook puts the most popular casino & betting games in your pocket. Try your luck at Three Card Poker, place a bet on an upcoming sports game, spin the wheel to win at Roulette and more all within one FREE Android app.
15-in-1 has been downloaded over 100,000 times already since its launch in May of this year and has a near perfect star rating in the Google Play store by over 1,200 users and has been described as "fun and addictive", "realistic games" and "Good Times" by real users.
If you love the casino, this is a must-have app for your Android device. A perfect app to perfect your casino strategy or just to pass the time. And best of all, there's no impact on your wallet.
To download this FREE game, visit the Google Play store.