This application is a must—>A.B.Collab: A business network focused on lead-gen via collaboration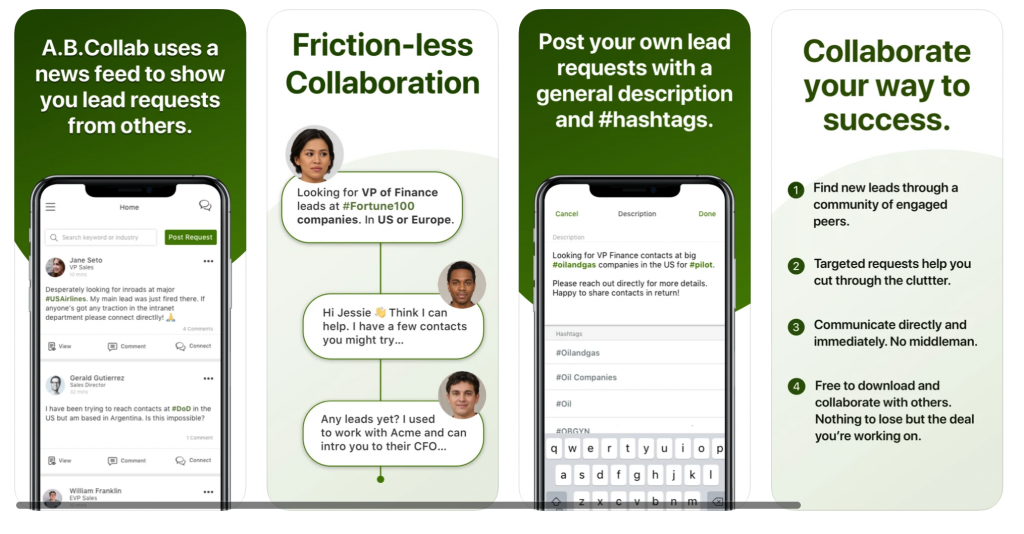 A.B.Collab aims to make it easier and faster for you to find new leads. Cold calling results in a 1-3% success rate, and it's abusive to both parties. When that same connection is made with a warm intro or referral, the rate jumps to 40%.
A.B.Collab is a business network designed by sales pros to help you close more deals through collaboration. We are a community of professionals focused on individual goals while helping others along the way.
How it works:
– Submit a targeted request to the community
– Other members review your request and contact you directly if they can help
– If you find success, repay the favor by helping others find leads they need
Discover a professional network focused on creating a rising tide of opportunity.
Benefits
– Work with a community of peers that want to help you succeed
– Feel good about helping others access hard-to-find leads
– Focus only on what matters most
– Use the spirit of collaboration to find leads and experts
Please upvote it on @producthunt https://www.producthunt.com/posts/a-b-collab  Please upvote it on @producthunt