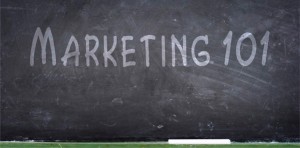 With such a positive response from the community for our App Store Optimization 5 part series, we have decided to continue offering a marketing series via our blog to help add to the conversation and education of the importance of marketing in the business of apps. We are pleased to introduce to you our 10-part App Marketing 101 series which has been constructed to provide you with tips, tricks and information on all 10 major pillars of app marketing.
Our first article focuses on the most important element of any successful marketing initiative – your product. Knowing who your audience is, defining your product to better articulate it to the market and ensuring your product meets the needs and the quality desired by your audience are topics we cover in our first of our 10-part series.
No matter what marketing efforts you put behind your app, the success of any campaign will come down to your product.
Being a product owner, it is extremely important for you to understand your app's purpose and demographic and translate these ideas into a working product that has the utmost quality for your user.
Define Your App's Purpose
Regardless if you are building a game, utility or a communication tool, the key to app success is to understand what you are building and why it will benefit your user.
Your app's purpose should be extremely focused. Don't try to accomplish too many things at once or you risk confusing, overwhelming and losing your user.
Look to your competition to help you define things. What are they doing well, what are they missing at and what can you do better?
A great exercise to help you fine tune your objective is to explain your app in six words or 140 characters (like a tweet) or less. This is not only a great way to clarify your concept but the output can also be used to create your marketing messaging in your upcoming campaigns or your unique selling proposition (USP).
Put Yourself in the User's Shoes
Once you have determined WHAT you are building take yourself through the remaining 5 W's to help understand your demographic.
Ask yourself:
Who are you building this app for?
Why will they use it?
When will they use it?
Where will they use it?
It is extremely important to know whom your user or users are and to continue to think like them throughout the idea, design, development and especially testing phases of your app project.
Keep this demographic in mind when it comes to your marketing. Target your paid media to this audience. Cater and create your marketing messaging using the answers to the questions above. Maintain a consistent vision of who your user to be sure that you end up with a product that your users want.
Don't Cheap Out on Quality
Marketing is there to bring visibility and traffic to your application. But it can backfire if your application is not ready for the spotlight.
Be sure that when you kick-off your marketing efforts your product is available and working. Your project timeline should have a strong emphasis on testing – both from a code and user perspective, to flush out bugs that will cause the app to crash and give a poor user experience.
It is often wise to schedule a marketing launch a time after the actual production launch of your app (or general release). This will give you time to see traffic and usage of your application from real users in a manageable volume. The feedback you gain during this time will help determine how ready you are to
Use your Product Roadmap as a Marketing Tool
The app ecosystem is an active one. Users expect to see updates to their apps and look forward to fixes, design changes and new features when it comes to their favorite applications.
These updates act as a form of marketing to your current users as the notification they will receive will keep your product top of mind and will spike usage. Be sure to spread out your updates to allow for usage to drop before you release another version to maximize its impact.
Keep on top of new operating system software updates and update your product with features that utilize them if it makes sense.
Updates to your app are also a great reason to establish a marketing campaign outside of launch so start to view them as more than just code releases.