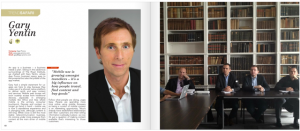 CEO & Founder of App Promo, Gary Yentin, has been featured in a new eBook published by Trend Safari called "Customer Engagement – Online and Offline".
The book is based on topics, sessions and conversations from the TAG Innovation Safari which was held this year in the UK. The mission of this event was to engage with creative and digital leaders in London on the topic of customer engagement in the digital world.
Gary is featured in the Day 2 section of the eBook which summarizes his session on topics including the Business of Applications, apps versus mobile web and mobile use for travellers.
To preview or purchase the book, visit: http://www.blurb.com/bookstore/invited/2857030/267435cc49b8f385a4fa0bc8933bddb7eda0c257