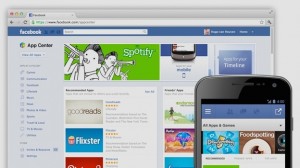 A lot of our clients have been asking us about how to use Facebook App Center for app discovery, especially since Facebook officially rolled it out to all countries last week. We are big proponents of ensuring your app is everywhere it possibly can be in order to increase visibility and ultimately downloads and usage so adding Facebook's App Center to the mix is definitely part of a winning strategy.
With every new store, however, comes new submission guidelines and review processes so we thought we would try to make it easier for you by answering the five most common questions about Facebook's new app distribution center.
1. What is the Facebook App Center?
Facebook has rolled out a discovery area within their environment to promote web and mobile applications that utilize Facebook APIs. This is another great distribution center ala Amazon App Store for Android, GetJar etc. for developers to use to make sure they get their app noticed and downloaded. App Center is available for Facebook users both online and on mobile.
2. Why Should I Publish my App here?
Facebook is the world's leading social network. They have integrated social sharing into the App Center which means that not only can people search and find your app in the Facebook environment but once a person finds you, your app will benefit from the social reach of their network and their network's network similar to having a Facebook Page or running a Facebook ad. In essence, Facebook App Center gives you the tools you need to help your app go viral.
In addition, Facebook has integrated Send to Mobile technology which makes conversion to download extremely easy for the user which should help with converting users.
3. Can Any App be Added to the Facebook App Center Catalogue?
No. Your app must be using the Facebook Single Sign-on API for iOS or Android to be published.
4. What Do I Need to Submit my App?
Like the Apple or Android process, you will need some assets and an app that is ready to go (with Facebook APIs) to get started. Most of these items you are going to be able to leverage from your original submission to the App Store or Google Play making this process easier, but there are a few new assets you should make sure you have ready to partake in the benefits of being in the App Center such as the Cover Image and Banners.
Here is a quick list of the items you will need for submission:
Display Name – exact name of your app (no additional keywords)
Tagline – promo copy could include keywords
Short & Detailed Description – pitch your app and set expectations
Category & Subcategory – see all categories here
Icon – upload 128×128 icon
Cover Image – upload 800×150 cover image keep in mind placement of icon over this banner
Small & Large Banners – these will be used to drive traffic if your app is chosen to be highlighted by Facebook
Screenshots – demonstrate how your app is social (big emphasis on this in the guidelines)
Link to your live app on the App Store or Google Play
5. Is there a review process for Facebook App Center
Yes. Your app will be submitted and then reviewed by the Facebook team. This process seems similar to Apple App Store process and unlike the immediate publishing process of Google Play. There is a great review of common submission mistakes that every developer should review prior to pressing the submit button in the Facebook Guidelines: https://developers.facebook.com/docs/appcenter/guidelines/.
Click here to get started in creating your page and Good Luck!
Have your app in Facebook App Center? Let us know your experiences in the comments below!