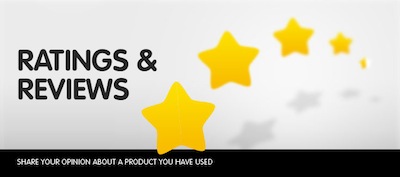 Welcome back to the last of our 5-part series of App Store Optimization (ASO) tips.
The goal of this series was to help app publishers and developers with a critical part in the app ecosystem: the app store product page. So far we have covered off improving your name; looked at how important it was to get your icon right; reviewed what to do to improve your screenshots; and, last week, revealed the secret formula to writing a successful product description.
This week we focus our last tip on the importance of reviews and ratings especially as it relates to discovery and downloads.
We all know how important customer feedback is. Comments and ratings provides invaluable information direct from the consumers of our applications. This is obvious a great source of learnings which can be taken back to influence the application's product roadmap whether its through a bug fix or feature enhancement.
What might not be well known is how important ratings and reviews factor into discovery and download of your app.
From a Discovery perspective: ratings and reviews are considered as metadata for search and can even help to categorize your app in search results according to news which broke this week on TechCrunch on possible enhancements Apple is making from their recent acquisition of Chomp, a leading app search engine, which uses customer feedback to influence discovery. If this is true, then gaining reviews becomes key for app publishers not only to get valuable feedback but also to ensure that their page is rich with keywords which can help them be found in search results.
From a Download perspective: ratings and reviews could mean the difference of a potential user downloading your app over a direct competitors – especially in list view on the device. We covered how important it was to stand out from the crowd with a great name and especially a killer icon. Well those little stars that get lit up when you get a rating and the numbers that grow when reviews are written are another way for your app to get noticed. If there is an app in the list that is similar to yours and you have stars (any stars) and more reviews, you are much more likely to be the one that is tapped on to continue forward and downloaded. Of course, when you start to be compared to others that also have many reviews and ratings, the importance of what your star rating and how many positive reviews you have become a factor.
So what to do? How do you get reviews and ratings? Here are a couple of ideas to get you started
Ask for them! Have a call to action to "Rate and Review Our App" on your product description, in your marketing materials, your emails and newsletters, your social networks – wherever it makes sense
Use pop-up notification reminders in your app to ask for active users to give their feedback
Build a resident area in your app, like in your menu, which prompts users to rate and review
Hold contests and promotions to gather feedback leveraging your social networks and databases
We hope you have enjoyed the ASO (App Store Optimization) Series. Please feel free to reach out to us directly at info@app-promo.com if you have any questions or keep the conversation going on our Twitter account @AppPromo.