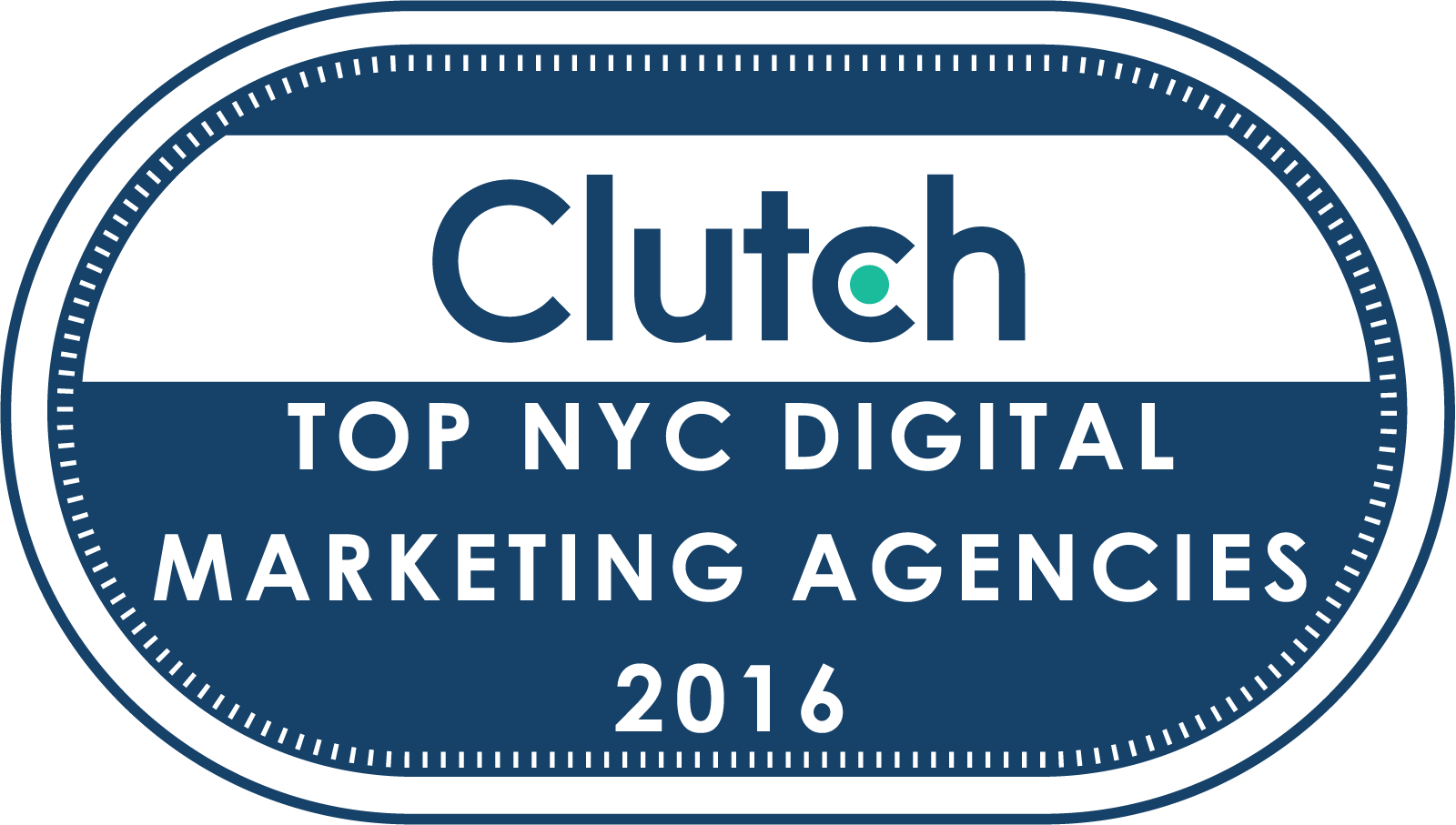 WASHINGTON, Oct. 20, 2016 /PRNewswire/— Clutch has published a report announcing the leading digital marketing agencies, full-service digital agencies, web designers, and mobile app developers in New York City. Though each category has unique requirements, all of the companies were evaluated on their experience, market presence, and ability to deliver.
Digital Marketing Agencies: Taktical, Social Diva Media, App Promo, Digitalux, CommonMind, WEBITMD, SEO Image, Column Five, Greater Than One, Main Street ROI, Trace Media Marketing, R2integrated, Moburst, AMP Agency, and LSEO.com.
Full-Service Digital Agencies: R2integrated, Blue Fountain Media, Momentum Design Lab, Greater Than One, Blue Water, Moburst, Avex Designs, The Mechanism, AMP Agency, KOUNTERATTACK, Bowen Media, PBJ Marketing, SmartNet Solutions, The Wonderfactory, and The Byne Group.
Web Designers: Lounge Lizard, Big Drop, Blue Fountain Media, MOBIKASA, IdeaWork Studios, Ruckus, MAXBURST, Bowen Media, Your Majesty, Dotlogics, R2integrated, DOOR3, The Mechanism, DotcomWeavers, and Benjamin Marc.
Mobile App Developers: DMI, Dom and Tom, ArcTouch, Fueled, Fuzz, Five, Worry Free Labs, Prolific Interactive, Small Planet Digital, MOBIKASA, Majestyk, Intrepid, 3 SIDED CUBE, Blue Label Labs, and SFCD.
"Every business in 2016 will require one or more of these services in order to differentiate themselves, establish a brand, or grow their audience," said Alexa Rosenstein, business analyst at Clutch. "New York City has set an extremely high bar for quality and expertise, and these agencies are standouts in their field."
These companies were selected based on qualitative and quantitative factors. Clutch analysts interviewed the companies' past clients to learn how the firms approach challenges, develop strategies, and execute campaigns.
Clutch's research on agencies in New York City is ongoing, and we encourage interested companies to apply to be included in future coverage.
Full listings can be found below:
Digital Marketing: https://clutch.co/agencies/digital-marketing/new-york
Full-Service Digital: https://clutch.co/agencies/digital/nyc
Web Designers: https://clutch.co/web-designers/new-york
Mobile App Developers: https://clutch.co/app-developers/nyc
About Clutch
A B2B research firm in the heart of Washington, DC, Clutch connects you with the agencies and software solutions that can help you enhance your business and meet your goals. Our methodology maps agencies and software solutions based on consumer reviews, the type of services offered, and quality of work.
Contact
Alexa Rosenstein
202.930.4752
SOURCE Clutch
Related Links