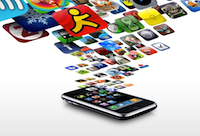 So you have an idea that is perfect for a mobile app and are ready to get started. You are full of ideas on design and know exactly what plaforms you want to tackle and want to get into market as soon as possible.
Before you jump full feet ahead, locking yourself into the decisions you have made, there are a couple of things you should think about in the planning phase of your app project that will help set you better up for success with your new mobile product especially when it comes to app marketing.
Market Positioning
There's no doubt that you have captured a great idea to go to market with, but have you done your research to see what's out there first? You don't need to be the first in market, but knowing who else is playing in your space will help you take a look at your concept to see how you can differentiate yourself.
Perhaps your design will better. More improved user experience. Additional features not yet in play by others. Or maybe you will set yourself apart with pricing.
Doing your research before beginning development and design is a must as the output from this exercise should identify what is going to set yourself apart from the rest in the market. You will need to take this differentiator and use it to drive requirements for both design and development.
Branding
Once you have nailed down what you are building, you are going to want to use that same research you started on your competitors to understand how they are presenting themselves in the market.
What names are they using for their app? What colors are they using for their design? Take a look at their icons to see if there is a common thread between them all.
Use the information you gain from this exercise as input into decisions for your own branding. These branding decisions should govern your overall design from icon down to the colors and fonts used in your application.
Price Point
Figuring out your revenue model before you start to develop is extremely important. Again, you are going to want to go back to the competitive analysis that you performed for positioning and branding to find out what others are doing in your space.
Next you are going to want to ask yourself if you want to make money off this app and if so, how? Will it be through activity via ad revenue? In-app purchases to access additional exclusive content? Or will the app itself be paid?
After looking to your own monetary objectives for your app and seeing what is out there in the marketplace – your final decision will be required at the start of your project to be sure that the technical solutions are implemented to support it.
Monitoring & Analytics
No matter what your app is all about, you are going to want to track activities by your users. All app stores provide insight into downloads, but it is up to you to implement some sort of tracking capability within the app to understand use behavior.
Make the decision to implement analytics right at the beginning of your project. Determine what metrics you will want to collect. And then find a solution provider that has an SDK that you can easily implement to achieve your monitoring goals.
Implementing analytics in your app will provide you valuable information about what your users are doing in your app to help drive marketing, advertising and future product upgrade decisions.
In-App Marketing Areas
Before you have nailed down the requirements for your design and development, be sure to build in marketing areas in your app that will service you when you are live.
Marketing opportunities to your existing users like push notifications to pull users in via daily reminders or breaking news, for example and pop-up reminders to ask for ratings and reviews need to be decided well in advance to development to ensure that they are implemented without re-work.
In addition, you will want to consider in your design areas in the app which promote sharing of your application using social networks and email to utilize social networking as a marketing avenue for your product.
When considering the features of your app, take a moment to consider what you can add to your app that will help drive new users as well as keep existing users coming back. Focusing on these two objectives will help ensure that you have incorporated elements into your product which are aimed to achieve these goals.